Invisi-gard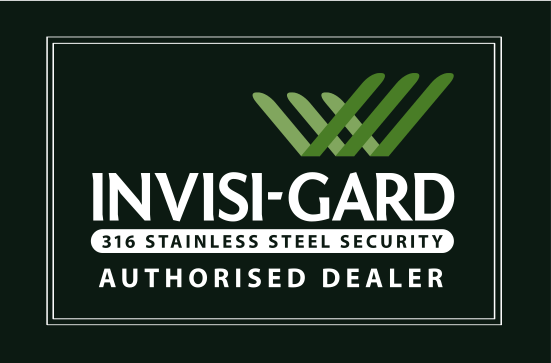 The most corrosion-resistant material in its class
316 grade has virtually the same mechanical, physical and fabrication characteristics as 304 grade, but with better corrosion resistance, particularly to pitting corrosion. There are some key differences between the two grades of stainless steel that pose both benefits and shortcomings depending on which grade you choose. Due to these differences in chemical composition 304 stainless steel is not as corrosion resistant as 316 stainless steel. "Tea Staining" and surface pitting or corrosion, are potential problems with 304 grade stainless steel but pose less of a threat to products manufactured from 316 grade stainless steel.
Why doesn't Invisi-gard 316 grade stainless steel mesh cut like 
so many others?
The difference is in the tensile strength of the wire used to weave the mesh. As the wire used in the Invisi-gard mesh is of such high tensile strength, the weaving process is made more difficult. The mesh is much harder to keep flat and straight and requires specialised weaving equipment and techniques to achieve the quality and flatness that is a hallmark of Invisi-gard mesh. This explains why many cheap imported meshes either pass the knife-shear test but fail on weave quality and flatness, or pass on weave quality and flatness but can be cut like butter.
Premium powder coating improves aesthetics and optical clarity
The powder coat finish on Invisi-gard has been specially developed to ensure great looks, clear vision and long life. Invisi-gard 316 marine grade stainless steel mesh is coated with a black polyester powder coat finish. This coating cuts down light reflection allowing clear visibility and is suitable for outdoor applications. Some competing systems use hybrid epoxy powder coatings which are completely unsuitable to outdoor environments leading to reduced product longevity.
The best and most comprehensive warranty in the industry
Invisi-gard 316 marine grade stainless steel mesh is covered by a 10 Year Warranty subject to the conditions on the Invisi-gard warranty. You get the assurance of a warranty from ALSPEC, the distributors of Invisi-gard. ALSPEC is a wholly Australian owned company that has been in the commercial building products business for over 35 years.
The strongest material in its class
Some companies claim that their 0.9mm 304 grade stainless steel mesh is stronger than Invisi-gard 0.8mm 316 marine grade stainless steel.
Window Screens
Proven strength and security 
316 marine grade stainless steel mesh 
Extruded aluminium perimeter framing
Looks great whilst providing excellent security. 
Doors
Does not detract from the decorative value of the entry door.
Many standard colours available or we can powdercoat

 to your requirements.

Excellent security without compromising the vision through the door.

Powdercoated black mesh makes it easy to see through.

Spectacular woodgrain finish.
Sliding Doors
Secure access to entertainment areas, back yards and patios.
Excellent security without compromising the vision through the door.
Patio/Screen Enclosures
Maximize security and enjoyment from the outdoor areas of your home  
Enclose your patio or outdoor area to make it impervious to insects or intruders
Does not limit the views, breezes or look of your home
Click on the images below to enlarge
Contact our friendly and supportive staff to help you make an informed, cost effective decision on your options.
Call 02 9521 2011 now or click here.